Great news for all PC fighting fans as it seems that Tekken 7 may be coming to our platform. We've heard a number of rumors these past days and today Amazon.co.uk listed the PC version of this upcoming fighting game.
Amazon was quick to react and took down Tekken 7's pre-order page, however NeoGAF's member 'Horseress' had already captured a screenshot from the game's pre-order page.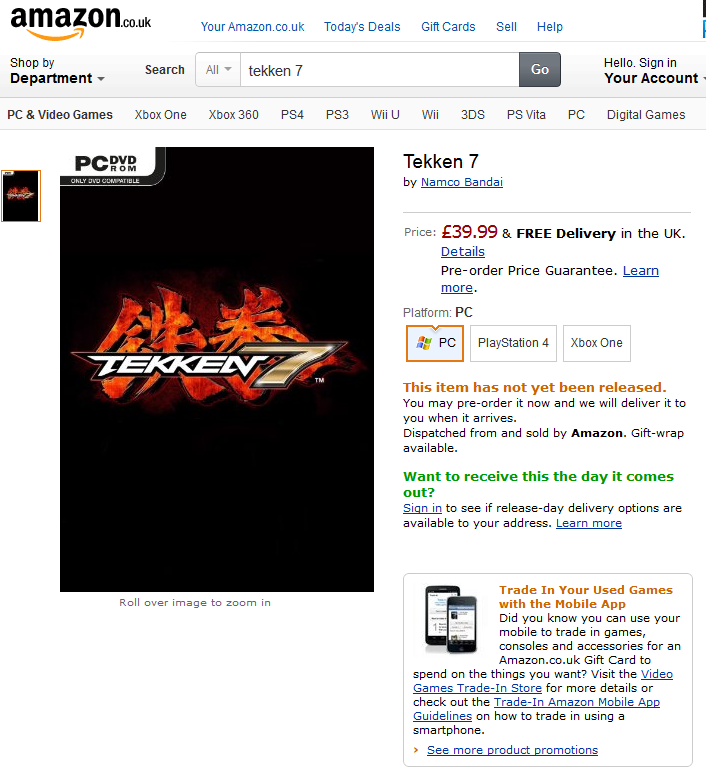 As we can clearly see, Amazon has listed the PC platform for Tekken 7, hinting towards a possible PC release.
There is still no official word about Tekken 7 PC. Katsuhiro Harada, Game Director/Chief Producer of the Tekken series, will attend this year's Comic-Con "Bandai Namco Games Fighting" panel. Here is hoping that Harada will confirm the PC version during that event.
Last but not least, Tekken 7 will be powered by Unreal Engine 4.
Also kudos to our reader 'walikor' for informing us.
Enjoy the game's announcement trailer that was released a couple of days ago!
Tekken 7 - (Japanese) Debut Trailer TRUE-HD QUALITY