CD Projekt RED has just announced that it is being threatened by some individuals who got access to some internal files of it, containing early designs for Cyberpunk 2077. According to the company, these individuals will leak everything unless CD Projekt RED complies to their threats.
CD Projekt RED was crystal clear, stating that it will not comply and will not give in to such demands. As such, Cyberpunk 2077's documents may be leaked in the coming days, weeks or months.
As CD Projekt RED noted, these documents are really old and do not represent the current vision of the game.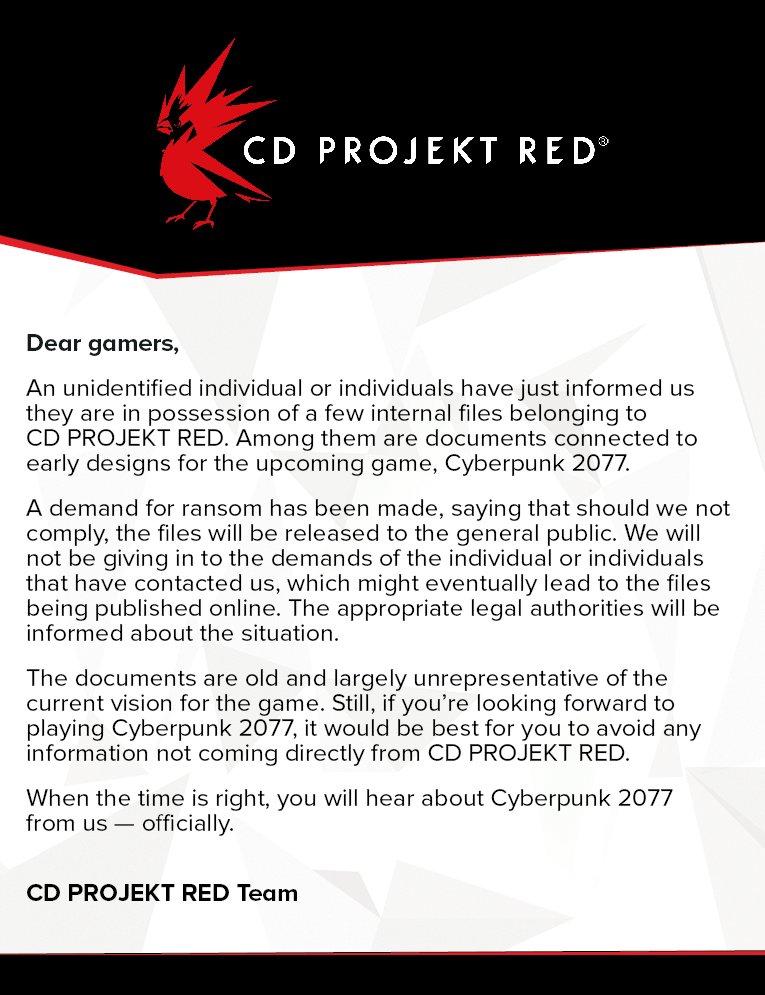 CD Projekt RED has already stated that the promotional campaign for Cyberpunk 2077 has already been planned, and that it will relay on surprise factor. Heh, guess CD Projekt RED was not ready for this 'surprise.' Joking aside, it's pretty crazy the lengths some individuals go in order to gain either fame or money.
There is no ETA yet for Cyberpunk 2077, so we may be looking at a 2019 release. Either way, we'll be sure to keep you posted!
John is the founder and Editor in Chief at DSOGaming. He is a PC gaming fan and highly supports the modding and indie communities. Before creating DSOGaming, John worked on numerous gaming websites. While he is a die-hard PC gamer, his gaming roots can be found on consoles. John loved – and still does – the 16-bit consoles, and considers SNES to be one of the best consoles. Still, the PC platform won him over consoles. That was mainly due to 3DFX and its iconic dedicated 3D accelerator graphics card, Voodoo 2. John has also written a higher degree thesis on the "The Evolution of PC graphics cards."
Contact: Email