Remedy recently shared the content roadmap for their latest game Control. First of we are getting free content, a photo mode and a new game mode called Expeditions. The photo mode will allow you to take photos, obviously, like any other game.
The Expeditions will focus on the end game. You will explore the mysterious Formation and you will need your best gear and abilities in order to survive. The Old House will probably challenge your limits, by throwing everything it got at you.
There is also an expansion coming in 2020 with the initials AWE. This could very easily revolve around the Alan Wake universe, I mean even the logo reminds me of that game. There were several easter eggs in Control referring to Alan Wake. I have no idea how they will make it work but honestly I am bit excited. Unfortunately these expansions will not be free or hopefully they will, but I highly doubt it.
Control – What's Next?

Now that Control has launched and we've been able to get a few updates out of the way, it's time to take a look at what's coming next. We will continue to build on the world of Control, creating additional game content all the way through 2020. We already have a small team in place at Remedy that's busy working on post-launch content.

Here's a brief overview of what's coming to Control…

First up, while some crafty PC players "unlocked" their own versions of this already, we are working on a much-desired Photo Mode, which will enable you to take some awesome snapshots of Jesse in the Oldest House. Make sure you unlock all of her costumes to flex by the time the Photo Mode arrives this fall. We'll have more information on this soon.

New Game Mode
In December, we will release a new game mode for Control that we are currently calling Expeditions. This will be a challenging new end-game mode in which Jesse must help Security Chief Arish explore the mysterious Formation and its strange surroundings. Here you will face some the greatest challenges that the Oldest House can throw at you. You will need the best gear and abilities to survive. Expeditions is free for all players.

Expansions
Moving ahead to 2020, there will be two full, paid expansions that our team is hard at work creating: The Foundation and AWE. Both of these will offer new story missions, enemies, and game mechanics, and take place in new locations within the Oldest House.

The Foundation will delve into the history of the Oldest House. At the request of the ever-mysterious Board, Jesse must explore what lies beneath the Bureau as she returns order to the Foundation and the Oldest House itself. Expect things to get weird.

The second expansion, AWE, will take Jesse into a new part of the Oldest House, the Investigations Sector, where the Bureau closely examines Altered World Events.

Finally, we would like to thank everyone from press to fans and the entire community for your support and feedback. The amazing response to Control means the world for us. Keep it coming!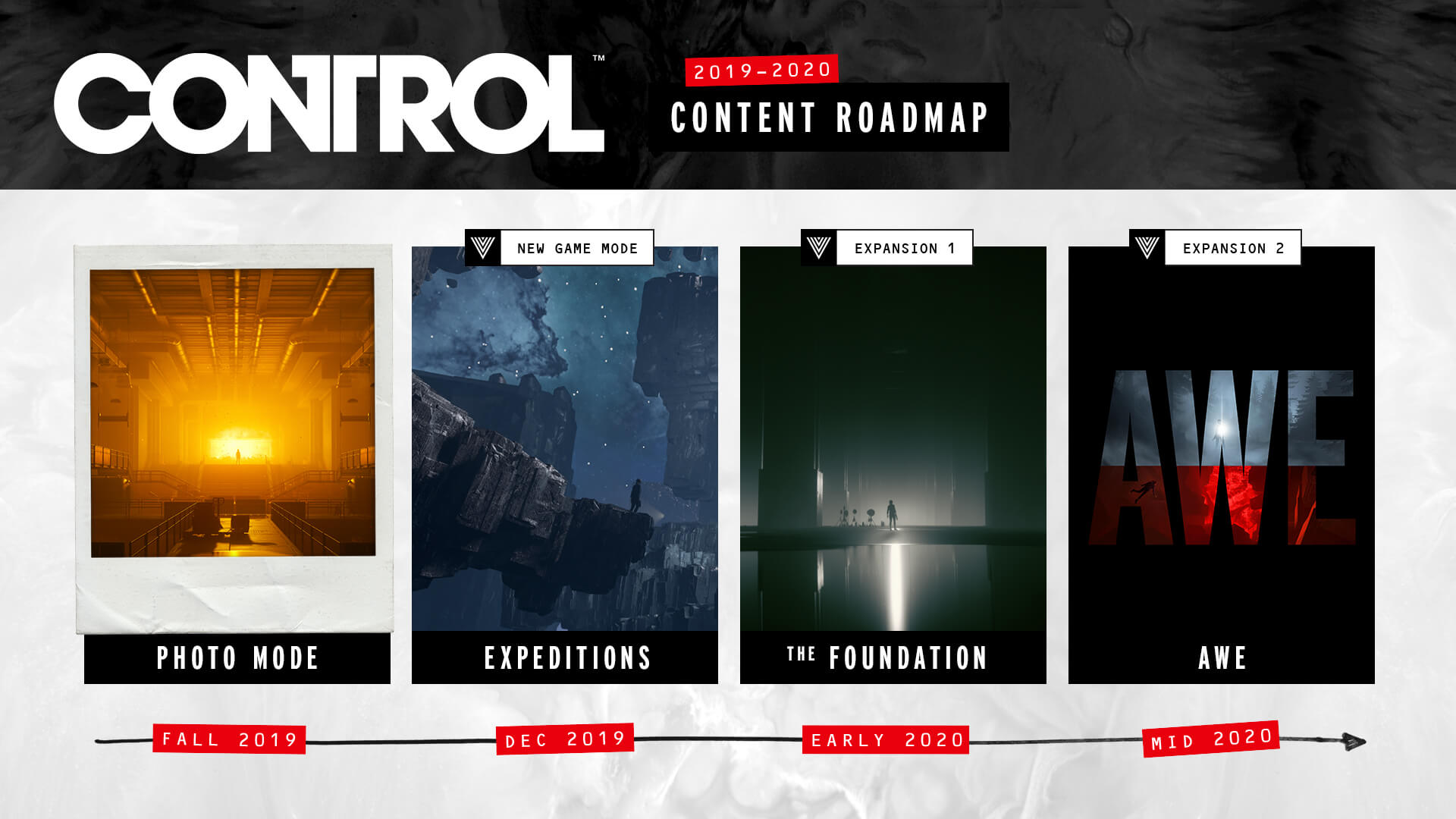 You can find the official announcement here.
Also here you can find the performance analysis and the review for Control, in case you missed them.